Euro-cool
Fruit, cooling, horses and solar energy
Euro-Cool
Located in 't Goy in the middle of the Netherlands, right between the A2, A27 and the A12, Euro-Cool is based on it's beautiful location nearby Houten. The cold stores and fruit sorting installation are housed on more than one hectare. The fruit growing company for apples and pears along with our stud farm for horses is situated around it.
All of our components together, form a naturally integrated whole, based on living products:
– Cultivating (hard) fruit
– Buying fruit on the chunk of the tree
– Breeding horses with an applename (www.appelpaarden.com) and compete them in sports
– Cooling agricultural products
– Sorting and packaging
– Increasing sustainability of the business process (solar cells)
The entrepeneur
Nico van Maaswaal is an innovating farmer for over forty years now. Besides the economic viability, the enterprise of Euro-Cool is a reliable steward in the goods trusted to it, whether it is soil, horses, trees or fruits.
The company understandably operates according to the latest quality guidelines, such as Globalgap. Even more important than the annual inspection, or stamp of approval is the feeling of stewardship and quality put into every days practice.
Nico and his family always want to innovate and improve their service. They invite you to browse through the website. For questions or comments please contact us, we'd love to help you.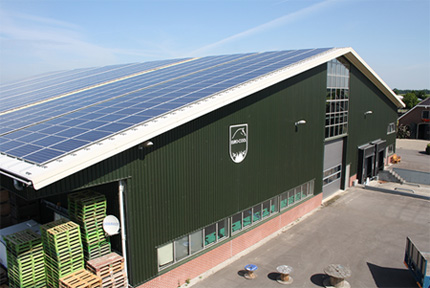 Van Maaswaal Stud
Horses with an apple name
Besides our passion for fruit cultuvation we breed horses. For years, we've been improving our breeding with the best pedigrees. We only use the best stallions, suitable for our breeding mares. Our horses reach the highest level in sports (dressage and jumping).
Contact us
Please contact us by filling out this form.